by dogtoysadvisor | Last updated on January 4, 2019
We only review products we tested ourselves. We have affiliate partnerships, so we get a share of the revenue from your purchase.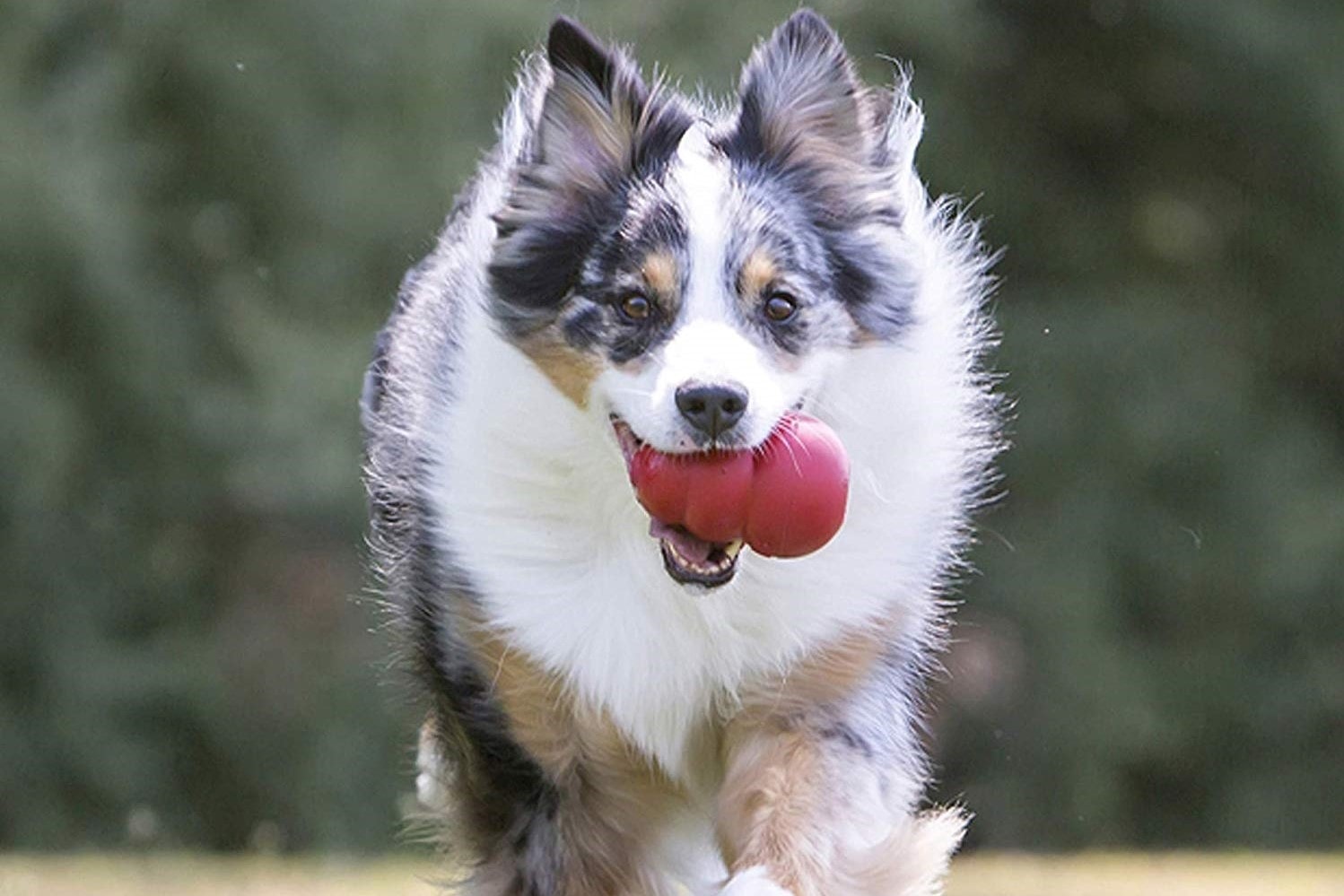 Toys are an important part of a dog's life. They keep them entertained and active, which adds to their health, but they can also help form that important bond between dog and human.
Choosing the best dog toys for your best friend is an important decision, not only for your wallet but also for your dog's mental and physical health.
Either through training or just some quality time spent together, toys help us connect with our dogs and even allow you to get to know them a little bit better.
Here you'll find our personal top 10 best dog toys in 2019. It covers all types of toys, it's like a sort of a Christmas wish list for our dogs, to cover every necessity.
Do you agree with our top? Is there any toy you think we're missing? If so, let us know!
This ball got us really excited!
One of our dogs, Tommy, is completely obsessed with tennis balls but they are usually not very resistant, so we keep on having to buy new ones.
Also, to be honest, picking up a tennis ball after it's rolled in the dirt and got slobbered on isn't great, so we've been looking for a better replacement.
Chuckit is a very good rubber ball for dogs.
The medium version has the same size as a regular tennis ball, but it comes in different sizes and shapes, all in bright colors that make it easy for us to spot at a distance, which we think is clever.
If your dog loves balls and he's a chewer, Chuckit Ball is your best choice.
The first thing you notice is how bouncy it is, it reaches a really good height!
And, due to its light weight, it's safe for dogs to catch mid-air, which is always a good thing for impatient dogs, like our two Jack Russells.
Chuckit is the perfect ball to play fetch.
Tommy is so obsessed with his Chuckit ball that he even jumps through waves at the beach to fetch it!
You can also use it in the water, it will float nicely since it doesn't actually absorb it.
Due to its extra-thick natural rubber, it is much sturdier than most balls, making it last longer. It meant our dogs used it as chew toy and didn't ruin it.
They did find it difficult to chew on at first, it is a hard ball. But it adapts to their jaws and once they got the hang of it, they loved it. And it worked even better for milder dogs, ones that love a good ball but aren't actually obsessed with it.
Another big aspect of the Chuckit! Ultra Ball is that it's so much easier to clean in comparison to other balls, and its rubbery surface means it wouldn't become the yucky spitball we're used to dealing with after being in the dog's mouth for a few seconds.
Don't get us wrong, dirt and drool will make a mess out of anything and we would advise that you use the Chuckit launcher if you want to keep your hands clean, but all you need to do is clean it with a bit of water and it will be ready to go.
We're very happy, because after 100 destroyed tennis balls, we finally found the best ball for our dogs!
Very resistant natural rubber
Good for aggressive chewers
Can be used as a chew toy
Still messy after being in a dog's mouth
Chew toys are a hit for pretty much any dog we know. What changes depending on the dogs is how long it usually lasts.
Around here, it's not long at all and that means we're always on the lookout for new chew toys that they'll love.
The name itself sounded very promising. So we decided to test the textured ring with the flavor medley version.
First thing we noticed was the size and shape, it keeps dogs very curious off the bat. It was fun to watch them carry it around!
Also it makes it easier for them to play with it.
With a cool ring shape that even heavy chewers will have a hard time annihilating.
We could clearly see the different grooves and edges and how it would help with their dental hygiene as it clean the teeth as they chew.
The material is really sturdy and, as they began the arduous task of chewing away, we saw that it wouldn't disintegrate into sharp pieces, which meant less worrying about them getting hurt while using it unsupervised.
Although you might want to watch out for how sharp the edges get after a long time of chewing. It might hurt their mouths.
It is a perfect and safe chew toy for aggressive chewers and the price is pretty great, considering how long your dog will use it.
As far as interaction goes, it's a very good interactive dog toy to play tug of war with or just throw it and have him retrieve it.
Also it can be great for their alone time, the round shape allows for all types of play, they can hold it upright or hold it down, they can carry it around with them everywhere, it's actually really fun watching them carry this sort of large door knob around.
We would recommend this toy for dogs who love to chew, as it is safer than most and it will last longer.
It doesn't disintegrate into pieces
Helps with dental hygiene
Sharp edges can hurt your dog's mouth
We had a lot of fun testing this one!
The KONG Flyer is a rubber dog frisbee, lighter, thinner and more resistant than the common hard frisbees, meaning it's easier to throw and it gets farther and higher, so it's harder to rip apart and destroy, as we easily discovered.
The KONG flyer is pure joy!
It's made with that durable soft rubber KONG has gotten us used to, making it safe for dogs' teeth and gums, especially for enthusiastic pups who'll want to catch it still in the air because, let's face it, it's the best way to play with a frisbee!
KONG flyer is perfect for a high energy dog who loves to run and jump.
It's also very flexible, meaning dogs can easily pick it up by bending it and can carry it in their mouths like a taco and once they let go it will spring back into its original shape.
If your dog is a fetcher, this is the toy for him.
We do not recommend playing tug of war with it, it is not meant to be chewable, but it will last a lifetime of fetching, for sure.
But if we had to pick the best dog frisbee for chewers it would definitely be the KONG flyer!
Also, in good KONG fashion, it is very easy to clean, you'll just need some water and be good to go.
We tested three frisbees and KONG flyer is our first pick.
The KONG flyer is an interactive dog toy meant for fetching. You can easily teach your dog to fetch it from the ground, but the real challenge is teaching him to jump up and catch it while still in the air.
With Tommy, our fetcher expert, it took us a couple of hours to teach it to him, but once he got it, he felt so happy and proud and wouldn't do it any other way.
So, if you have the time and the patience to teach your dog some neat tricks, you will have hours and hours of fun, which also means a deeper bond between the both of you.
If your dog is a fetcher and a jumper, this is the best dog toy!
Easy to throw high and far
Safe for the dog's teeth and gums
Not for agressive chewers
Does your dog like playing with sticks? Unfortunately, sticks are very unsafe as shards of wood can lodge in dog's throats or gums.
This real wooden chew toy solves that problem perfectly.
It looks, feels and smells like a proper stick, but once the dog starts chewing away, it will start dissolving into tiny bits of soft material, making it safer for your dog to swallow, though it also probably means you'll have a bit of floor sweeping to do once he's done with it.
All the pros of a wooden stick with the safety of a tested dog toy.
The only thing you'll have to worry about is tossing it once it becomes too small, to avoid them swallowing it whole.
We recommend that you go above the dog's size for this, otherwise, the fun will be over too quickly. Or maybe it's just our dogs who tend to chew above their weights!
So far this toy is one of the best chew toys for dogs that we've tested.
It is durable, but if your pup get obsessed by it like ours did, it won't last for months, it is not the most durable chew toy they've had, but oh the joy!
Also, if your best friend tends to get destructive with his chewing, this dog toy will really help curb that destructive chewing behavior.
They really really love this one!! This toy is the best alternative to real sticks you'll find.
It is something dogs can do on their own, but you can also play fetch with it, like you would with real sticks and your dog will probably learn how to do this faster, due to its appealing scent.
Very similar to wooden sticks
The scent keeps dogs interested
Doesn't break into shards of wood
Breaks into small pieces and creates a mess
KONG Wobbler is basically a food /treat dispenser, but the way it does its job is pure genius, because it sits upright, waiting for the dog to tap it with the paw or the nose and make it move and drop its coveted reward.
This means that, whether you dispense food or tasty treats, playing with it is a big part of the fun, keeping dogs interested and challenged for much longer than your usual food/treat dispenser.
We have the large sized Wobbler, it is huge for Tommy and Coco and perfect sized for Dobby, the Portuguese Podengo who thinks he's a Pitt Bull, but ultimately the smaller dogs still love it and, being Jack Russells means we usually get them toys over their weight because otherwise they will just destroy them sooner.
It is as entertaining as it is durable, it will last you a lifetime.
Also, being large-sized means it won't roll under the furniture and we can always find it.
The size isn't really a problem, because since it sits upright and the weight is at the bottom, it just wobbles or they can roll it on its side anywhere they want. But for smaller, less rambunctious dogs, you should probably choose the right size for their weight.
This Kong treat dispenser is very sturdy and overall it is a very durable toy because it's not easy to chew on. It won't dispense treats too easily which is good for dogs who like challenges but can also make an impatient dog just give up on it.
It is a great solution if you want your dog to eat slower, and its a good boredom buster because it will keep your dog busy for a long time. Be advised the hole isn't adjustable, you'll have to make sure the kibbles fit through.
Also it's easy enough to use and clean! You just unscrew the top, place the treats/food inside, close it back up and when the dog is done with it, you just put it in the dishwasher.
For us, each dog uses the Wobbler differently.
Coco just bashed it around to make the food pop out, being impatient as she is.
Tommy will always make sure the Wobbler in on the carpet and just tap it a couple of times in a row to get his treats, very methodical.
As for Dobby, it took him a while to become interested in it, we had to use our best and smelliest treats to get his cooperation. In the end, he figured out how to do it but will much rather beg us for treats with his "ohmygoshi'msuchasadandstarvingpuppy" eyes. He's right though, it works every time!
If you want to up your game, there are treat dispensers that let you play with your dog while at work.
Very resistant and durable
Keeps dogs interested for longer
Doesn't dispense treats too easily
Won't roll under the furniture
The dog won't play with it if empty
The hole is not adjustable
Well, if you loved the ChuckIt! Ultra Ball we mentioned earlier, you will go crazy for this one! We know our dogs did!
This may be one of best dog fetch toys.
Like its predecessor, the ChuckIt! The whistler ball is made out of sturdy, rugged rubber, making it harder to destroy.
It has four small holes which make it a bit easier to sink the teeth in, so we wouldn't recommend leaving it out for the dogs to chew on, particularly if they're aggressive chewers like ours.
But, as far as dog balls go, this one will last much longer.
We also find the sound helped the dogs to fetch faster, because it created a greater interest than regular tennis balls for dogs.
If a regular ball isn't enough to please your dog, try the whistling ball!
Dogs see it perfectly, it's very bouncy and easy to clean, though if you want to throw it for long and keep your hands clean, you might want to use the dog ball launcher.
But the big difference is, as you might have imagined by its name, it whistles!
When you throw the ball, as the air passes through the holes, the ball will whistle, like a little bird tweeting.
Can you imagine the effect that has on dogs? Yeah, it's pretty hilarious!
It will not make a very loud sound, it depends on how hard you throw it, but it will be loud enough for their hearing.
For our ball testers, this was a particular hit with Coco, being much more of a listener, whereas Tommy relies much more on sight.
We also tried this one with the shelter dogs and found it is a very fun group activity, watching them all chase it as a pack, completely mesmerized by the sound, probably thinking there was a small bird trapped inside somehow, it was lovely to see dogs of all sizes run after it.
If you want to play fetch with your dog but found it hard to get him interested on regular balls, this is probably a very good alternative, because the whistling makes it much more interesting.
The whistle helps motivate the dog
Still slobbery after being in a dog's mouth
Not meant for heavy chewing
This is a classic dog rope toy, they can chew, play tug of war with and fetch, whatever you and your dog like to do on your quality time together.
It has no bells or whistles like most toys we've mentioned on this list, but it really works in its simplicity.
For starters it lasts a very long time, even for aggressive chewers like our Jack Russells or the PitBull rescues from the shelter.
Granted it isn't indestructible and you will have to clean the little fibers they leave behind or they will eat them.
But it is pretty resistant, the dogs can just carry it around everywhere, chew on it until they get tired with little damage to the fibers and a lot of dental work.
Ropes and dogs are a great match. Add safety and endurance and you have a winner.
As the name suggests, it will floss the dog's teeth as they chew and play with it.

You can find a lot of different versions of a rope, we always prefer the longest, heavier ones, though we won't recommend you give it to small dogs or puppies, it is just too hard for young teeth.
Read our reviews of the best toys for puppies for an alternative rope toy.
This is a tough and durable toy for heavy chewers.
But even when we choose the XL version, it will still have a great price in comparison to other toys, meaning you get a great toy that your dog will love, that will last a long time for a small amount, you can't beat that!
An important aspect to remember is to preferably keep it indoors! It is not easy to clean after you've had it in the dirt.
This toy is very interactive, and it can be used by more than one dog at a time. You can also use it for an amount of activities with your dog, like fetch or tug of war, but it can also be used by your dog, on his own.
It is a simple and effective toy with a great price. If you're looking for this type of combination, than this is the best dog toy for you.
Very resistant and durable
Can be used by more than one dog at a time
Some fibers may get loose and swallowed
We laughed so hard when we discovered this toy! We just had to have it.
It's a plush, a squeaking toy and a puzzle, all in one.
The idea being the dog is supposed to retrieve the squirrels hidden inside the log and each squirrel squeaks, making it fun game for the dog to play and for you to watch!
We bought the larger size to cater to all of our dogs and it wasn't a problem, it's light enough to be carried by smaller dogs as well as big ones.
If your dog loves plushes and a challenge, he'll love it.
They will love to chew the little squeaky squirrels and they are pretty easy to destroy, so you should probably supervise him, but the good news is you can buy replacement squirrels as needed.
The puzzle part does provide great mental stimulation and they love playing with it.
Tommy loves the game of hide & seek and hunts the squirrels whereas Coco carries them around like babies, so sweet! Dobby isn't so sure if it's safe to get anywhere near them (well, they do have teeth).
Our dogs loved the entire thing, from carrying the log around to pulling the squirrels out and chewing on them to make them squeak.
While it isn't by any means sturdy or resistant, it is a lot of fun for dogs to play with.
As we've mentioned, it is a puzzle, a plush and a squeak toy, so it can be used either way.
Although it will keep your dog entertained for a long time without much of your input, it is very important that you supervise to make sure he doesn't swallow anything.
Apart from that, if your dog likes a challenge and can't resist a squeak, this is the best toy for him.
Resistant for a plush toy
Provides mental stimulation
The dog can swallow the stuffing
Not meant for hard chewing
We tend to have these types of poles around to entertain our cats, so discovering a pole for dogs was quite the surprise. And, like the cat version, this dog toy can provide hours and hours of (pretty much) work-free fun.
This pole can be used with dogs of any size and it is good for their mental as well as physical health.
Dogs will get pretty acrobatic while trying to catch the little squeaky toy at the end of the line. They'll jump and sprint after it, it's really fun to watch.
Basically lots of exercise with minimum room requirement.
A great exercise with all the fun of a one-on-one play.
The cord is elastic, meaning the dog will be able to pull it without it breaking.
Be aware that if he does let go of it once stretched, it will bounce back to you, so if you don't want a slobbery toy hitting your face, you might want to be careful.
If the dog chews on the toy, he will destroy it, but the good news is you can buy replacements.
Just keep it away from your dog when you're not playing with him and you'll get hours and hours of fun and exercise with your best friend.
It is not a good toy for playing unsupervised, because he will just chew the toy and he can get tangled in the elastic.
We would particularly recommend this toy for high energy dogs, it will tire them out pretty quickly. Of course, your arm might become tired too, but that's to be expected!
Also, if your dog has hunting instincts and likes to catch his prey, buying a flirt pole will make your dog very happy.
If your dog needs to move and you don't really feel like having a bit of exercise yourself, this is the best dog toy for you.
Good for high energy dogs
Provides mental stimulation
Your arm will become tired
Unsafe to use unsupervised
Will get destroyed if chewed
KONG toys are a timeless classic, its sturdy rubber never disappoints, and you always get a safe, durable and very resistant toy.
This KONG is a treat dispenser meant for fun while eating.
You're meant to place food, dry kibble or treats inside it and your dog is meant to find a way to eat it and get a good time out of it.
The main difference being it can sustain much more chewing than your average chew toy and that is quite a difference to have, particularly when you have more than one dog who loves to chew and does it quite aggressively.
It's a classic for a reason, it never gets boring.
It will also help curb separation anxiety in dogs.
Try freezing the KONG with fruit, yogurt or even peanut butter because it takes them much longer to empty the KONG, keeping them occupied for much longer and it is perfect on hot days for cooling them down.
The KONG is a great toy for dogs that get easily bored and need constant stimulus.
You'll need to take under consideration that if your dog is used to playing with the KONG with food inside, he will not want to use it empty, he'll be expecting his reward.
Also, be aware that, once he eats all of the food, he won't want to play with it anymore.
If your dog is a chewer who loves eating as much as he loves solving puzzles, than this maybe be the best toy for you.
Helps to curb separation anxiety
Provides mental stimulation
Keeps the dog distracted for hours
The dog loses interest after he emptys the toy
[et_bloom_inline optin_id="optin_3"]
Affiliate links / Images from Amazon Product Advertising