Best Puppy Toys Of 2019 (Reviews)

by dogtoysadvisor | Last updated on January 04, 2019
We only review products we tested ourselves. We have affiliate partnerships, so we get a share of the revenue from your purchase.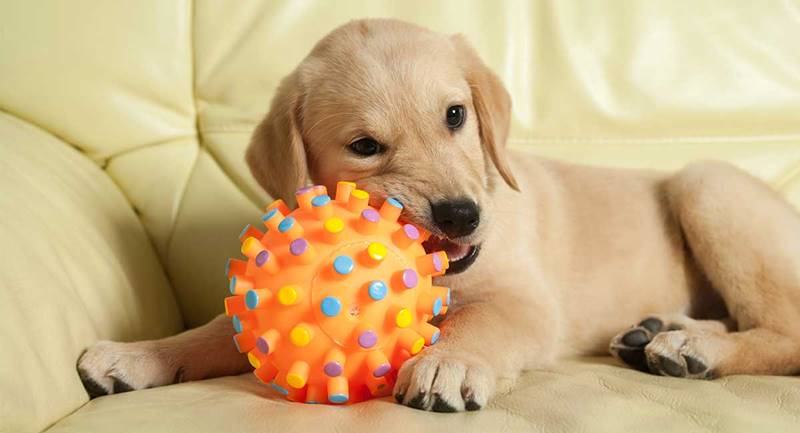 Puppies are fascinating. Lovely, cuddly, funny and very mischievous. Socialization and training are probably more important at this point than any other moment in their lives. So, naturally, finding the best puppy toys is crucial!
Puppy toys keep puppies from getting bored and into trouble (aka ruining your home) and can also be a nice company when they're alone.
The amount of toys for puppies can be overwhelming. Here we tried narrowing it down to our favorites and we hope you agree!
Here you'll find our personal best toys for puppies in 2019. It covers all types of toys: puppy chew toys, stuffed animals, chewing ropes, toys for teething puppies and much more, to cover every necessity.
Do you agree with our top? Is there any toy you think we're missing? If so, let us know!
Well, here it is, your puppy starter's kit! You have pretty much everything you though you needed and then some!
10 different toys in different materials and textures: squeaky toys, plush toys, rubber toys, soft toys, hard toys, chewing ropes, dog balls, rubber bones, you name it, it's here and it's actually perfect for an easily bored puppy.
Puppies need the variety.
Because they need that extra stimulus you need to buy the best puppy toys to keep them busy and distracted to make sure they don't ruin your home.
We tried getting a couple of our lovely shelter puppies and just sprawl all of these toys in front of them. Their eyes just lit up, they have no idea which to chose first!
The rubbery and rope materials are good for their teeth and gums, which makes them a very important during teething.
All toys are washable and more durable than most (though it will depend on your puppy's chewing, of course, they are not indestructible and, to that end, we do recommend supervision to keep your puppy from swallowing anything he shouldn't).
They can play fetch and tug of war with them, and a lot more fun games for dogs to play.
Carry them around or play with them on their beds, either way, he'll love it and you'll certainly love the price!
Some will require training and interaction, but some will keep him busy on his own.
If you have a puppy that gets easily bored and like to chew but sometimes also loves cuddling, this interactive dog toys set is for you.
Lots of different toys to play with
Good for chewing, tug and fetch
Helps relieving a pup's boredom and destructive behavior
Helps with dental hygiene
Some fibers may get loose and swallowed
Is your puppy a chewer? Is he teething and desperate to put just about anything in his mouth to try and soothe his poor aching gums?
Than we recommend you try the Nylabone Puppy Chew Toy.
It is a beef-flavored flexible toy, meant for helping teething puppies while keeping his minty breath and his dental hygiene in check.
But it does so much more than that!
It keeps him interested and active for a long time, helping with the boredom that usually spells disaster for our home.
In true Nylabone fashion, it is very durable and easy to clean, so he can spend hours on end chewing away safely.
You can even place it in the freezer before giving it to him for the big chewers, thus help to soothe his aches even further.
The smell of it is very pungent, which is good for the puppies and not so good for our noses, but it's a little price to pay for the hours he'll be entertained by it.
It has different textures and the cross shape really helps them to keep it in place properly.
This is a very resistant puppy toy. It is meant for chewing, but also playing, of course.
It is something you can use to play with your puppy, but it is also safe to leave him entertained on his own, as long as you check for loose pieces once in a while to make sure your puppy doesn't swallow it.
If you're looking for a tough chew toy for teething puppies to keep him happy and distracted and prevent him chewing your furniture, Nylabone has the best dog chew toys for you.
Very resistant and durable
Relieves the puppy's teething pain
Helps curb destructive chewing
Different textures and the smell makes it more interesting
The smell is very pungent
Loose pieces may be swallowed
If your puppy is a single pet, these KONG Cozies might very well become his best friends.
With 10 different characters to choose from, you can take your pick in animal or color or just get a few of them to make your puppy happy and keep him company at all times.
Marvin Moose was the one we got and it's even lovelier in person. He is soft and cuddly and that extra layer of material makes him more resistant to puppy teeth and energy than most squeaky toys.
And boy, do puppies have energy! Even when you wear them out, all it takes is a couple of minutes for them to regain their energy and off they go again, running full steam ahead!
It is great to teach your puppy how to fetch or just play tug of war.
We do not recommend you leave him alone with it, because if he is a tough chewer, he will end up ripping it open and might just eat the filling.
Kong puppy toys are very resistant but it is still a toy made out of fabric and very susceptible to teeth. If or when he does tear it open, you just take the filling out and leave him to it, he'll still find it entertaining, although once he gets to the squeaker, it will be a mute toy.
It is very light, making it easy for your puppy to carry around in his mouth.
The puppies at the shelter fell in love with Marvin straight away, it was such a big hit!
If you're looking for a dog plush toy for your puppy to play with or just cuddle next to and have it last more than a few days, this is the toy for you!
As we've mentioned, this is a very good toy to teach how to play fetch. It will also prevent your puppy from getting bored and mischievous.
Training does require patience, time and positive reinforcement, but those are the moments that build that all-important bond between pet and human that will last for a lifetime.
The squeaker lasts for a long time
Not meant for agressive chewing
Puppies are lovely, cuddly and sweet. But they are also big chewers (particularly while teething) and will chew on just about anything that catches their eye,
So it is very important that they get their attention duly directed at the right things and these dog chewing ropes are among the best things for puppies to chew on.
These were a blast to try. It comes in 4 sizes, meaning you can either use it on different sized puppies or use a different one at each of your puppies growing stages.
You get an energetic puppy and one of these and you'll have fun for hours! Besides fetching and tug of war, they love chewing on it, of course, and most of them tried different parts of the same rope, which is a plus and, while doing it, are also taking care of their dental hygiene.
These puppy toys are resistant and easy to clean and the price is brilliant!
As far as supervision, all you'll need to watch out is for those fibers that will get loose, making sure your puppy doesn't swallow it.
Most importantly, as long as your puppy has one of these colorful, fun ropes at his disposal, he won't be thinking about chewing any furniture or piece of clothing he find lying around in your home.
This is a good toy to teach your puppy how to play fetch but we found it most useful in teaching him how to bite and let go, something very important for him to learn as early as he possibly can. Having that kind of training will be very positive for him throughout his life and make your life easier as well!
If you want a great-priced, durable and fun interactive dog toy for your puppy, than this is the best toy for you!
Very resistant and durable
Good for tug and playing fetch
Helps to curb excessive biting
Some fibers may get loose and swallowed
The name pretty much says it all. KONG is a timeless classic, its sturdy rubber never disappoints, you'll always get a durable, very resistant toy.
The KONG puppy toy is meant for fun while eating. You're meant to place food or treats inside it and your puppy is meant to find a way to eat it and get a good time out of it.
The main difference being it can sustain much more chewing than your average treat dispensing toy and that is quite a difference to have, particularly when your puppy is teething and could really use the help.
If you don't know what to put in the KONG for your puppy try fruit, yogurt or peanut butter.
Put the toy in the fridge overnight, it takes them much longer to empty it, and keeps them occupied for much longer.
The KONG is a great chew toy for energetic puppies that get easily bored and need constant stimulus. There is also a KONG for dogs which we've included in our Top 10 Best Dog Toys.
Be aware that, once he eats all of the food, he won't want to play with it anymore.
On the other hand, there is nothing wrong with a few hours (or more, depending on the puppy) of good old fun that involve puzzle solving and eating at the same time, a great way to keep your puppy busy when you leave home for work in the morning.
If you're looking for a safe chew toy for puppies, than this is the right dog toy for you!
Very resistant natural rubber
Provides mental stimulation
Helps to curb separation anxiety
Keeps the puppy busy for a long time
The puppy loses interest after he emptys the toy
This is a really clever dog ball. It is meant for indoor use, for those rainy or snowy days, when your puppy needs to play and you can't take him outside.
It has a soft exterior, which puppies love and a hard center. It is silent, light and has a nice bounce to it, though nothing that will cause damage to your home. In fact, the chenille exterior means it will roll across your floor smoothly, making it perfect for ground pursuit.
It is not a ball that will stand for a lot of chewing, altough because of its size it is not easy for your puppy to chew. It is resistant and the material somehow keeps the slobber in check, which we really appreciate.
It is a big ball, meaning it is hard to chew or carry in a puppy's mouth but it is also too large to roll under your furniture.
Its bright color means you can easily spot it anywhere.
If the less amount of slobber is still too much for you, you can get the ball launcher and use it to keep your hands away from the drool when playing with your puppy.
This is mostly a ball meant for fetching. Meaning you'll have to train your puppy to know what to do with it and play alongside him. We do not recommend leaving your puppy chewing on it without supervision, he will most likely gnaw at the chenille and swallow it.
If you often have a bored puppy and live in a rainy/snowy climate, this indoor ball is the best puppy toy for you!
Its soft and good for playing indoors
Won't roll under the furniture
Not meant for agressive chewing
[et_bloom_inline optin_id="optin_3"]
Affiliate links / Images from Amazon Product Advertising