10 Best Toys To Keep Your Dog Busy Indoors
We only review products we tested ourselves. We have affiliate partnerships, so we get a share of the revenue from your purchase.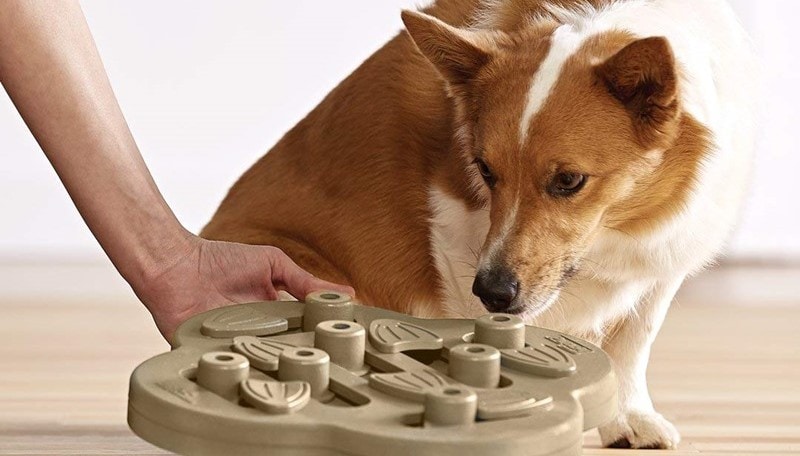 Getting the best toys to keep dogs busy is crucial. Our dogs are particularly energetic, plus they get easily bored and bored dogs with accumulated energy means trouble
We often leave them home alone and, even if we're home, we can't give them our full attention at all times.
Over the years we tried as many toys as we possibly could to see which work the best for them. Now we're sharing our research with you.
Best Toys To Keep Dogs Busy
Here you'll find our personal best toys to keep dogs busy. It covers all types of toys, from chew toys to treat dispensers and puzzle toys, to cover every necessity.
Do you agree with our top? Is there any toy you think we're missing? If so, let us know!
The chew toy to keep your dog busy for hours
If your dog is a chewer and if he tends to destroy his toys easily, this is one of the best chew toys to keep him busy for a long time.
It has an interesting shape and it is made of real flavours like bacon, peanut butter and chicken.
The truth is nothing entertains our dogs quite as much as a chewing toy and this one is got their immediate attention.
Even if you have an aggressive chewer at home, this is a very resistant chewing toy, just make sure to throw it in the trash once it gets too small to prevent swallowing.
This toy will surely keep your dog entertained for hours and hours.
Helps curb destructive chewing
Sharp edges can hurt your dog's mouth
This is a fun alternative to the KONG Classic. To keep your dog busy, you'll still fill it with treats or food, but the Wobbler will stand and wobble instead of just staying put while your dog chews away.
This means it is more challenging than most classic interactive dog toys.
You dog can still carry it around, but he will probably prefer to play with it while it wobbles.
Also, it's a large toy, so you can get more stuff in there, hence, increasing the entertainment time for your dog.
For help with dog boredom and keep your dog happily chewing away while he's home alone, the Wobbler is a great option.
Very resistant and durable
Keeps dogs interested for longer
Doesn't dispense treats too easily
Won't roll under the furniture
The dog won't play with it if empty
The hole is not adjustable
Fun and mentally stimulating
When filled with tasty treats, is keeps dogs pawing and nuzzling at it until the last bit is eaten.
You have three degrees of difficulty to choose from, we used the Intermediate and the Advanced and we could really tell the difference in terms of the time it took for them to get how it works.
It is a very entertaining dog toy meant to keep your dog mentally stimulated and busy (and fed, of course) while he's on his own, great to stave off boredom.
You'll just have to decide for yourself if it is a good fit for your dog, we don't recommend leaving aggressive chewers with it without supervision.
Three levels of difficulty
Keeps dogs busy and challenged
Makes feeding fun and interactive
The dog might swallow some pieces
This dog toy puzzle is meant to keep your dog entertained for hours. It can be used as a plush, as a puzzle and for an interactive game of hide and seek.
He'll have hours of fun finding the hidden squirrels and playing with each one.
For us this is one of the best toys for dogs.
Again, it is a toy that we don't recommend for aggressive chewers, particularly if you mean to leave your dog alone with it. He will most likely chew the poor squirrels and might swallow some fluffy bits.
But if your dog plays nicely and loves cuddly plush animals that keep him on his toes, entertained and mentally stimulated, this is a great toy for him.
Resistant for a plush toy
Provides mental stimulation
The dog can swallow the stuffing
Not meant for hard chewing
For your dog to chew away the boredom
Chewing is a great way to keep a dog busy. Just make sure you chose durable toys that can be destroyed without being a safety hazard for your dog.
Nylabone is a great option for heavy chewers.
It's one of the best chewing toys for dogs, it keeps them entertained for hours, while we're at work of if we just can't give them the attention they require.
It is a great toy that he can chew and play with it (particularly if there is a second dog to share the ring with).
It is guaranteed to stave off boredom while helping with their dental hygiene, fun and healthy at the same time.
It doesn't disintegrate into pieces
Helps with dental hygiene
Sharp edges can hurt your dog's mouth
This dog puzzle is a great option for clever dogs who get easily bored.
As for keeping him entertained while you're at work, you'll have to decide if it's a good fit for your dog, we do not recommend it for aggressive chewers, he will destroy the parts and might end up swallowing a piece or two.
But as far as entertainment goes, this is a great toy to keep your dog busy and mentally stimulated.
Even after he's figured out how it works, you can still hide the treats under different parts each time to keep him guessing.
More challenging than most dog puzzles
Provides mental stimulation
Dog will lose interest if empty
This is a colorful toy our dogs love!
The treats are divided into three different chambers and it's up to your dog to wobble and roll it around until it's empty.
It provides great physical and mental stimulation, a great idea to keep your dog entertained for hours.
One detail we found helps a lot is you can decide on the size of the treat exit, that way you decide the level of difficulty, which means the fun doesn't end once he learns how to empty it the first time, you can just make it harder for him to do it next time.
Treat dispensers are boredom busters and make fun games for dogs to play!
Takes longer than most treat dispensers to empty
Provides mental stimulation
Adjustable holes for difficulty
Dog will lose interest if empty
An all time favorite, for good reason
Every pet owner knows what a KONG Classic is.
It is meant to keep your dog busy while you're at work or even in those rainy days when long walks and outside play just aren't options. It is also an excellent toy for bored puppies. 
It will be particularly successful in entertaining your bored dog if you get creative with the fillings, freeze it with fruit inside or just use peanut butter to attract your dog's attention.
It will keep your dog entertained for as long as it takes him to lick the final little bit of taste out of it. There are a lot of recipes to fill the KONG that you can try.
It can also be useful in dealing with separation anxiety in dogs.
If your dog loves eating as much as he loves solving puzzles, than this is the best dog toy for you!
Helps to curb separation anxiety
Provides mental stimulation
Keeps the dog distracted for hours
The dog loses interest after he emptys the toy
Because aggressive chewers need toys too
Because aggressive chewers (like our Jack Russells) deserve chewing toys too and you deserve to have their toys last more than a few days, this dog toy is a good option.
It is durable and has a great, entertaining shape. It is also very hard to get the treats out, which means it will keep your dog entertaind for a while.
It also has a great bounce to it, which means it will keep your dog moving and playing for longer.
You can freeze it or just fill it with treats, either way it is resistant and meant to keep your dog busy and entertained while you're at work or on those rainy days when going for long walks just isn't an option.
Keeps your dog entertained for a long time
Provides mental stimulation
Safe to leave unsupervised
It won't take long to empty
[et_bloom_inline optin_id="optin_3"]
This dog toy that is pretty much our dog's greatest dream. It's a ball, with loads of edges to chew away at (chewing toy) and you can fill it to the brim with treat (treat dispenser).
Really, all it need is to move on its own and our dogs would pass out of excitement!
It's a fun interactive toy, very durable and colorful. We recommend it for energetic dogs but it probably won't last very long if you have an aggressive chewer.
Due to its shape and feel alone, it will keep your dog interested even after the treats are gone, it's just that entertaining!
For long hours away from home, this is a great option, it will keep your dog interested and entertained, as well as mentally and physically active for longer than most.
Particularly entertaining
Great for alone time playing
Aggressive chewers may need supervision
Affiliate links / Images from Amazon Product Advertising