8 Best Dental Chews for Dogs of 2019

by dogtoysadvisor | Last updated on January 30, 2019
We only review products we tested ourselves. We have affiliate partnerships, so we get a share of the revenue from your purchase.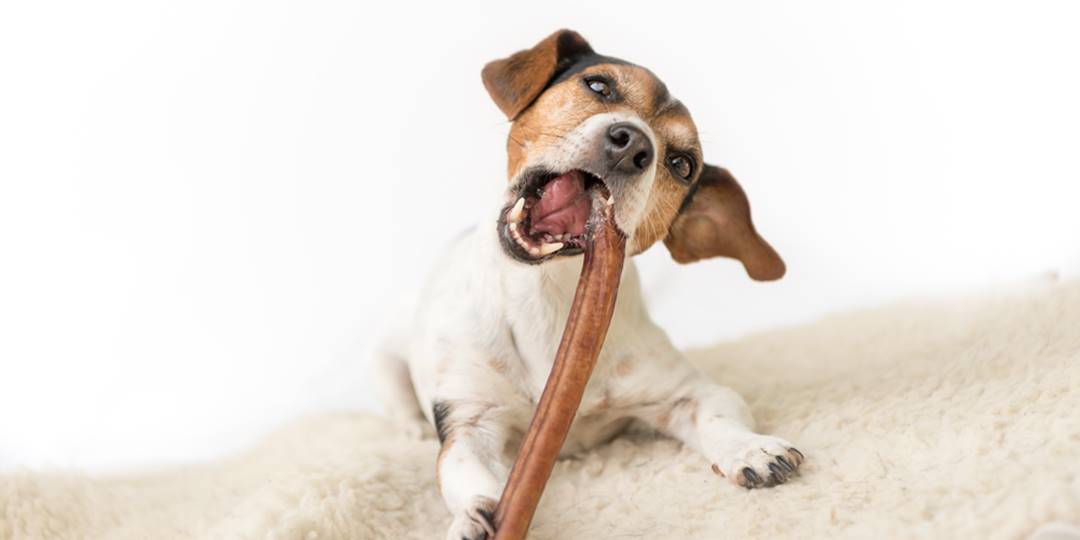 Most people believe chews to be nothing more than snacks for your dog, unhealthy snacks at that.
And, while most of what we see out there would fit this description, there are more and more dog chews that have actual benefit for our dogs.
Chews are, for sure, the best dog treats you can give your pooch. They help with that oh-so-pungent doggy breath we all know and love (not!) and are a great ally in controlling teeth and gum disease, particularly plaque and tartar.
Also, you'll find them particularly helpful with teething puppies. Yes, toys help too, but if you can add a bit of taste to what your puppy chews, we can guarantee he'll prefer it.
Best Dog Chews And Treats
We first heard about VeggieDent Dental Chews at our dog's vet. With a rough start to life, he needed teeth surgery due to severe tartar that actually caused him to lose two teeth at the age of six!
After his surgery, the vet recommended these chews as the best dog chews available to clean the dog's teeth as well as keep tartar in check, while removing plaque and calculus. A brilliant side effect is the fresh breath that lasts longer than with most dental chews.
It's from Virbac and it's made from beef hide. It has a bit of a Z shape that makes it easy for dogs to hold and you can give it to your dog every day, we noticed no gastrointestinal reaction to it, even though our dogs are a bit sensitive.
It comes in several different sizes, from XS to L size and once you start using it, you'll notice an immediate change in your dog's breath. Plus, they love the taste.
The time your dog will take to eat it really depends on the dog. If you have seriously committed chewers like we do, it will take about 7 minutes if you give him his weight-according size. About 10 to 15 minutes if you upgrade to a larger size.
It was a bit hit with our dogs and with us. We will say it does not replace a visit to the vet, particularly if your dog already has a gum or teeth condition, but if we're talking hygiene maintenance, this is our top pick as best dog treat AND best dog chew for our dogs.
Helps with controlling plaque and calculus
When it smells like something crawled in your dog's mouth and died every time he comes near you and opens his mouth, it's time to take urgent action!
As far as bad breath goes, the Milk-Bone will be your best ally, it is the best chew for great results. They come in different sizes, from mini to large breeds so you can pick the right size for your pooch.
Along with freshening your dog's breath, its nubs and ridges are formulated to help clean your dog's teeth even in those hard spots in order to maintain great oral hygiene and make sure your dog's breath remains decent-smelling long after the Milk-Bone is gone.
In terms of taste, it's been approved by our experts (aka our dogs) and the 12 minerals and vitamins included in its composition also add to your dog's health. Tasty and good for your dog's health, what more can you ask for?
So if you're keeping your dog away from your nose because of his bad doggy-breath, try the Milk-Bone and give him all the Eskimo kisses he deserves!
Very effective in freshening your dog's breath
Its grooves and ridges are great for cleaning dog's teeth
Great texture and taste, dogs are big fans
Bully sticks are the talk of the town right now, some considering it the best dog treats out there. They're safer than rawhide but mostly because they provide a great challenge even for the most aggressive chewers.
The Pawstruck is ingeniously made, eight bully sticks braided together into one very resistant, tasty and intricate chew.
And the ingredients aren't bad either, it's high protein and low fat, very easy to digest even for the most sensitive dog.
Our dogs are little hyenas and take about one or two hours to chew it. So, if your dog is a committed chewer like ours who can't finish a chew fast enough, this is the dog treat for you.
Read also: best chew toys for dogs
High on protein and low fat
If you have a senior dog or one close to getting there, you'll find the SmartBones Dog Chew the perfect choice for your pooch.
With glucosamine and chondroitin, this dog treat is great for warding off arthritis and helping with joint health while being rawhide-free for an easy digestion.
Aside from these components, the Smartbone Functional Dog Chew also adds chicken and vegetables to the mix, assuring your dog will love chewing on them.
If your dog's breed is prone to hip and joint problems or if these issues are a concern due to age or injury, the SmartBones are the best dog treats you'll find.
Training your dog can be a fun way to tightened your bond with him, but you'll find they cooperate better if the rewards are tasty and plenty.
This can be a problem, because you can end up overfeeding your pooch, which can lead to overweight and health problems.
With that in mind, our suggestion is Zuke's Mini Natural Dog Treats. They're low calorie, healthy and come at a very affordable price.
Also, you can pick from a number of different flavors to keep your dog from getting bored with them or if he just happens to be very picky with his food (which makes him more of a cat, really).
There's chicken, salmon and even peanut butter – Mixing up flavors has never been easier!
Inside, you'll find real ingredients like meat and vegetables and none of wheat, corn or soy.
And, with less than three calories per treat, you can reward your dog as often as you'd like which, let's face it, if you like to spoil him as often as we do, will be a lot!
Small pieces that fit your pocket
Dental and gum healthcare is much more important than just preventing bad breath.
Plaque and tartar can rotten teeth and mouth infections are known for causing serious health problems for dogs with life threatening consequences.
GREENIES Dog Chews are particularly effective in teeth and gum line cleansing.
With its toothbrush shape and unique texture, this chew is great for reaching places in your dog's mouth most other dental dog treats wont.
Also, you can count on fresh and easily digestible ingredients to make sure your dog will love each and every bite.
Our dogs loved chewing on them and we loved the freshness of their breaths afterwards. Overall a winning combination.
Great for cleaning teeth and gums
Puppies need chews toys even more than adults do because they go through the awful teething phase. You can also give them treats to soothe their achy gums.
While all chews we mentioned here can be given to puppies, the Wellness Natural Puppy Training Treats are our top pick for them.
These dog treats are perfect in size for small dogs or puppies, they are also soft and chewy. Oh, and did we mention delicious? (A friend told us, of course, we would never try dog biscuits!!!)
Flavor-wise, you'll find lamb and salmon are a great hit with dogs in general, puppies in particular.
Also, they are very healthy, made with fresh ingredients and grain-free and low calorie, just what you need to give your puppy a great start to life.
Perfect sized for puppies in training
Very tasty (again, we've been told!)
[et_bloom_inline optin_id="optin_3"]
In this day and age, the number of people choosing to feed their pets grain-free diets. With this in mind, we see more and more grain-free dog treats add to the mix.
A great option for that end is Blue Buffalo Dog Treats. It's 100% grain-free with no byproducts whatsoever and all fresh ingredients, created particularly with your dog's health in mind.
You might think that healthy doesn't mean tasty, but you would be wrong. The crunch is still there and so is the taste, you can actually chose from different flavors that include turkey, salmon and venison.
Personally, we've been feeding our dogs grain-free food for a while and see a real difference in their energy levels (that part we could probably do without, they were pretty energetic to begin with), their shiny fur and their overall improved health.
One of them was developing a food allergy that disappeared completely with this change. So, for us, it made total sense to add these grain-free treats to their diets. Plus they love the flavor!
Fresh ingredients, no by-products
Great taste and crunchiness
Affiliate links / Images from Amazon Product Advertising and iStock